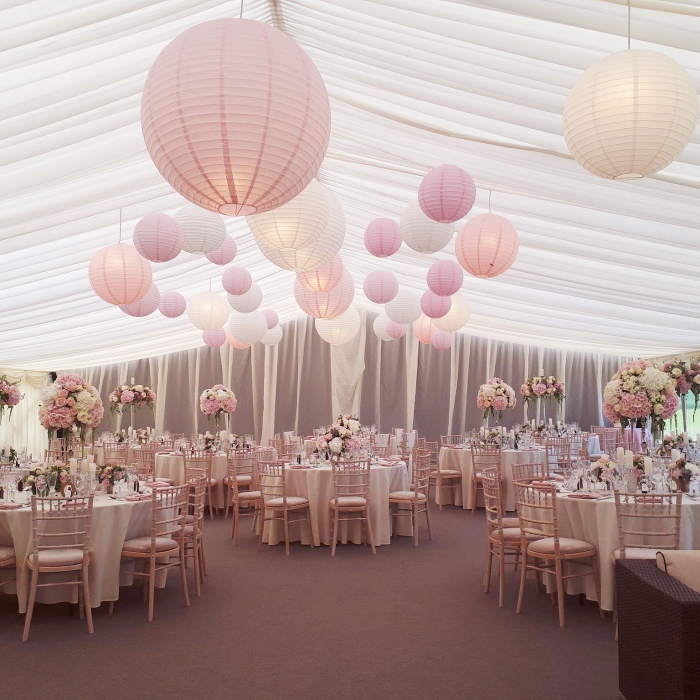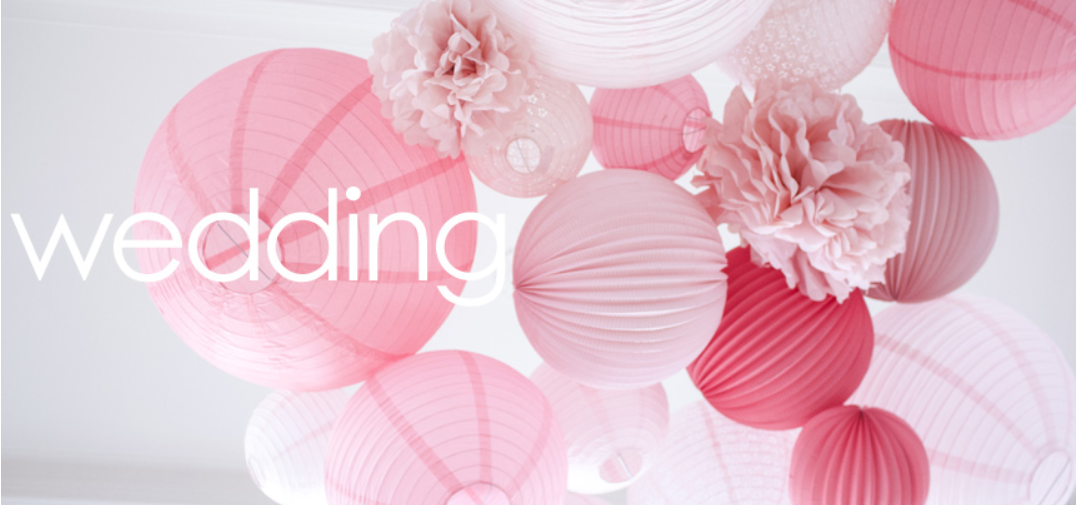 Congratulations on getting married! Here are our best tips to create a gorgeous wedding setup with our
paper lanterns!

With paper lanterns, paper pompoms and other paper decorations, you will create a dreamy decoration for your big day!
And we have so many one-of-a-kind colors that you can be sure to create a unique piece of décor for a memorable event.
All our products are really easy to hang and to mix and match to fit your wedding theme (castle wedding, nautical, boho...)
and specific venue.Last but not least, many of our future brides reuse their lanterns after their wedding to decorate their
first child's birthday or their home!
HOW TO CHOOSE YOUR COLORS ?
Now our dearest tip, just for you: don't get too anxious over the exact accuracy of your paper lantern colors. The finish
will greatly vary according the luminosity of the venue where you will hang your lanterns, because of the difference of
materials between some of lanterns (like paper lanterns, made of very thin paper) and others (accordion paper lanterns,
in thicker paper). Also if you shop some of our products that do not match 100% your Pantone references, once hung on
the ceiling, the general feeling will be totally in line with your wedding color palette or theme.

White is always a good idea!
If you are still hesitating about colors, why don't you go for simple white. We have a lot of different "whites" and you could
create a nice combination of plain or eyelet lanterns, accordion lanterns and pompoms. The end result will be gorgeous and
always elegant, whatever the theme or the venue. Our all-time favorite lanterns for wedding decoration are the eyelet and
lace lanterns...
OUR FAVORITE COLOR PALETTES FOR THIS SEASON

WHICH LANTERNS TO CHOOSE FOR YOUR WEDDING?
In general, our clients choose to decorate their wedding with traditionnal shapes like paper lanterns, accordion paper
lanterns andpompoms, but you could absolutely add some honeycomb balls or star lanterns to the mix.
For a great party backdrop, paper fans are always a great choice as they are super easy to hang and cover a lot of space.

HOW MANY PAPER LANTERNS DO YOUR NEED TO DECORATE YOUR WEDDING
VENUE?
Most important for a great wedding set-up is accumulation. According to your budget and your vision, you can decide to
decorate the entire space or just selected parts of your venue (the dancefloor, a dessert table or the bride and groom's table
for example).

To decorate the entire venue ceiling using some lanterns here and there as touches of color, we recommend 9 paper lanterns
or other decorations for every 18 square meters of space (190 square feet). You can of course adjust to what you feel is right
for your wedding and your budget. For a fuller look, go ahead for 9 paper lanterns or other decoration for 8 square meters (85
square feet).


Check out our paper lantern sets for turnkey venue decorations!
You can also draw your event space with its main features like tables or dance floor, and draw a circle wherever you want a
lantern. This will give you an idea of how many lanterns you would like to have.

For a specific and more limited space to decorate, you should concentrate the lanterns a bit more so that the final effect is quite
dense. For 1 square meter of ceiling, use approx. 3 paper lanterns 35cm, 2 accordion paper lanterns 30cm, 3 accordion paper
lanterns 20cm, 1 pompom 40cm, 2 pompoms 20cm.

Another solution is to string a very fine twine along the centerfold of your wedding tent and mix and match color forms that suit
your wedding best. Each piece has a small hook for paper lanterns or a small string attaching the honeycomb ball and paper fan.
That way it's super easy to hang them from the central twine.

We also really like when a group of 6-7 elements are hung together at some points of a wedding venue, or in the trees for an
outdoor cocktail party or reception.

Remember we are always at your service if you need help to define the final number of paper lanterns you need to purchase for
your event.

How to hang paper lantern in your wedding venue?
All our paper lanterns and accordion paper lanterns have a small metallic insert or hook that you can use to hang the lanterns
from fishing line or thread. Our other products (honeycomb balls, paper fans, paper pompoms) have a small string you can use
for hanging. Once you'vechecked the hanging possibilities for your wedding venue, you can go ahead and decide the best way to
proceed.

Creating a paper lantern sky for your wedding reception
The easiest way to go is to string fishing line or thread to create a « net » over your party venue, on which you will be able to
hang your paper lanterns and at different heights.In a wedding tent, you can also use the metallic structure of the ceiling for an easy hanging solution.

If you want to decorate only specific spaces in your venue (i.e. the dance floor or dessert table), you use the same technique in
the smaller area.
Hanging paper lantern groupings
If you choose to create paper lantern clusters to hang at different points of your venue, here's the easiest way to proceed:
you can create these on the floor or at your height, using a common string loop that you will be able to easily hang once the
cluster is ready. You could totally use tree branches if your celebration is outdoors!

Decorating your venue specific features
Some of our clients also use specific features of their venue to hang paper lanterns: a staircase, balcony etc. Concentrating
paper decorations around these features will create a great dramatic effect.

For a pretty party backdrop
If you have organized a photo corner, or want a pretty backdrop for your dessert buffet, use our paper fans that are super
decorative and so easy to set up. Most of the time, washi tape can be used (although you need to test if it is strong enough
to holds your décor for a long period).

You can tape small sized paper lanterns on a big piece of cardboard for a modern and super festive backdrop.

Our LOVE oversized balloons look also amazing as a party backdrop. Easy to inflate (no helium needed if you do not want
them to fly) and very decorative!
Can the paper lanterns be illuminated?
Most of our clients use them as simple decoration items without illumination (which also has an impact on budget) but if you would like
some lights in your lanterns, for the product "paper lantern" in sizes 35cm and 50cm, you can use a bulb of 40W max,
making sure you center the bulb right in the middle of the lantern, using the little "C" hook on top of the lantern to fix the
electrical cord.You can also use LED bulb of maximum 40W. For baby lanterns (15cm) and accordion lanterns you can only use mini
battery-operated LED lights. We strongly recommend the BUTTONLITE LED lights that are, according us, the best lighting
system for our products (available on this site)

Need more inspiration for your wedding?
We offer a free styling service for your wedding! Send us an email with details about your wedding, your theme/color palette
and your vision and we will be happy to help you put up the best combination for your big day.